---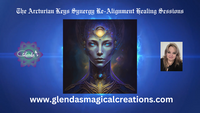 The Arcturian Synergy Re-Alignment Healing Sessions
I was guided to receive the energies of the Arcturian Synergy and after receiving this healing, I experienced a deep spiritual cleanse where I was then attuned and received a set of etheric Synergy that were encoded into my energy background. As I connected with each of the levels of Synergy, I was given insights into how they work and how they can be used to heal and re-align the mind, body & spirit both on a personal level and also professionally. 
Each healing session I will use the Arcturian Synergy and it will bring healing on a new level. 
Every healing modality is not for everyone.  It is not a one fit all.  Take what resonates with you. The more your work through and gain spiritual discoveries from the learning opportunities, you may start to gain a familiar knowing or sometimes a conscious understanding of your past manifestations, and you may begin to understand your spiritual evolution better.
A better understanding of your spiritual evolution may result in releasing spiritual baggage in this lifetime and recognizing and acknowledging oneness more profoundly. You may start to gain more enhanced visibility of interconnectivity boosting synchronicity.
The more you work with the energies of this attunement, you may start to honor your uniqueness. This is an integral part of not only releasing both spiritual victimhood and karma, but it manifests vital spiritual empowerment in your life. It also may accelerate your spiritual growth and enhance your spiritual development and awareness.
The Arcturian Synergy will also help with the following and much more: 
 * Raising personal energies to higher levels of conscious awareness.
* Cleansing virtues from the physical and spiritual bodies.
* Boosting the Immune system.
* Upgrading overall health and well-being.
* Relieving bodily pains.
* Easing prolonged illness.
* Removing energetic parasites, implants, cords, daggers, darts, attachments and much more.