---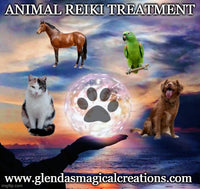 Reiki is used to help in the physical, mental/emotional, and spiritual healing of animals. Reiki is a non-invasive Japanese holistic energy healing system used to support energy balance and harmony.
This approach is composed of 6 Pillars of Practice:
This method is founded upon traditional Japanese Reiki techniques and philosophy.
Animal Reiki is mindfulness meditation practiced "with" our animals, rather than an energy therapy done "to" them.
Animal Reiki meditation is taught as a state of mind with flexible physical forms.
Touch is used only when animals seek it out, and then only as a compassionate support.
Mental focus techniques develop an "All is Well" state of mind for the practitioner that sees the animal's perfection in this moment. This is seeing with your "Animal Reiki eyes," in other words, seeing more deeply, with your heart.
This method acknowledges and honors each animal as a spiritual teacher and healer in his/her own right. Practitioners learn to listen to animals and become receptive to their spiritual wisdom and healing gifts.
Whether pet reiki treatment is done in person or over distance. 
Fees are $30.00 per session plus any expenses if any.  For further information, please contact Glenda directly.  For scheduling contact me directly at 610.570.2247 or email me.