---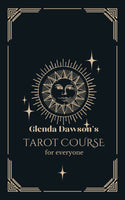 This is a monthly meeting where we will learn step by step Tarot. Every class will include exercises and/or quizzes to see your progress. Practice will be required between classes and experiences recorded.
ZOOM: PRE REGISTER-
https://us02web.zoom.us/meeting/register/tZcof-yrrT8pHtdyNtToU4Syao7AD6Ch10-w
There is limited space in person.  Please complete purchase to insure your place in person. 
Not just the meaning of it, but you will also learn how to use your intuitive gifts to provide a more intensive reading for yourself and others.
The full program will be for one and half years (18 months) at which time you will receive a Certificate.
Our monthly class meets every 3rd Tuesday of the month. This will be also recorded for not only those that can't make a certain monthly class but for review.
You will be required to have a Tarot deck (preferably the "Rider Tarot" or any other similar deck.
Fee per class per person is $40.00 or $720.00 and acceptable forms of payments are Venmo, Zelle, CashApp, and (cash if in person). (Friends to friends). Payment arrangements can be made directly with Glenda.

Any questions, please contact Glenda 610-570-2247 between 10:00 a.m. and 8:30 p.m. Please leave a message if no answer. Glenda is available for private sessions for an additional separate fee.