---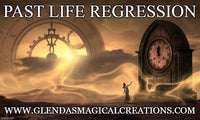 Past life regression is a type of journey taken while in a relaxed meditative state where a person can recall—by seeing, hearing, or feeling—past lives they've lived. Whether these experiences occurred on Earth, other Dimensions or Planets.  No matter where the consciousness has taken you during your journeys that lead up to this moment.  If you can wrap your head around the notion that consciousness doesn't die when the heart stops beating, you may want to learn more.
This recall and journey can be of any past life including those not on earth.
These sessions are not rushed and all questions are answered and explained prior to the sessions beginning. 
People with chronic health issues that have no known origin, those with memories of other unexplained places and times, those with inexplicable phobias, as well as persistent pregnancy issues.
Past life regression therapy is also beneficial for anyone having a run of bad luck, who is trying to figure out what to do with their life, as well as a person interested in knowing if they have the ability to work as a healer or intuitive.
It's not always about uncovering past traumas- sometimes, you're shown happiness in a previous life which can be inspiring and help you remember how to live a good life today. Seeing how you shined in a past life, can remind you of your worth and power.
My job is to be a conduit is to facilitate a bridge and help connect people to their own power.