---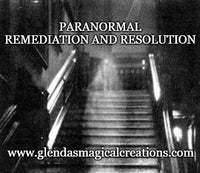 PARANORMAL REMEDIATION AND RESOLUTION
Whether a private home, building or any other location. Please give Glenda a call if you feel you have paranormal activity.
 She will provide what we find and facilitate its remediation.
This service includes full disclosure on the findings and provide acceptable solutions available to all involved. This can be done remotely and in person!
Prices are $200.00 plus expenses if any. Please contact Glenda directly for further discussion. Please contact Glenda at glendasmagicalcreations@gmail.com or 
610-570-2247.