---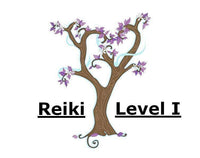 LEVEL 1 is for anyone. If you ever wondered what Reiki is all about this is for you. If you wish to take your spiritual journey to a new level, this is for you.
The focus during Level 1 is on opening the energy channels on a physical level, allowing the practitioner to connect to the universal life force energy, which flows from the cosmos through the crown of the head and down to the heart and hands.
The goal and emphasis is self-Reiki of the Level 1 designation, encouraging students to focus on practicing Reiki on themselves, thereby working through their own obstacles. The Reiki Level 1 attunement was initially given in two separate attunements and this is the method I prefer as it allows time for the student an opportunity to work through their own issues and thereby being their own healing.
Many experience physical symptoms of energy in their palms after the first attunement — including tingling, coolness or heat. Typically the Level 1 course also includes an overview of the history of Reiki, hand placements and self and group practice.
First attunement occurs on this day, then after 21 days of healing, you will have the second attunement for Level 1 to seal this level. After the second attunement you will be mailed your sealed Certificate and book by yours truly. 
If you have any questions or concerns, please message me directly.
The fee is $200.00 plus mailing/postage (for the physical book and original sealed certificate) This includes workshop, 2 Attunements, Certificate and a Book written by myself. Contact me directly to discuss any further questions or requirements. 610.570.2247 or email at
glendasmagicalcreations.gmail.com
This is being taught by a 22nd Level Usui Reiki Grand Master as well as a 10th Degree Right Hand Path Magus and Reiki Grand Master.
Requirements: Dress comfortable in a place without interruptions. Have something to eat and water to drink for the break. Take a shower that day.  No drinking or non prescription drugs 24 hrs before class starts. Remove all jewelry. Bring, also notebook and pen to write down notes. Also need an email address for zoom for the appropriate time for class.  This is if it is not in person.