---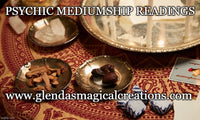 Glenda will use her given gifts to be used as a conduit to provide messages of healing. She can do this in person, over the phone, via Facebook call, or through email. These sessions are completely private and they take an average of an hour, but could be longer. It is dependent upon what spirit wants to tell you.
 Fees are $125.00 plus expenses, if any. 
Please contact Glenda 610.570.2247 or email her for further information and scheduling.